GOLD COAST TREASURE CLUB LOST & FOUND
The Gold Coast Treasure Club helps our community by
offering recovery of lost jewelry, keys or cell phones using metal detectors.
Following are some notable recoveries.
LOST ITEM RECOVERY
Have you lost something that can be found
with a metal detector? Jewelry, cell phone, keys...
Let us help you.
Email: gctreasureclub@yahoo.com
or phone Kevin Maranville 561-371-6911
---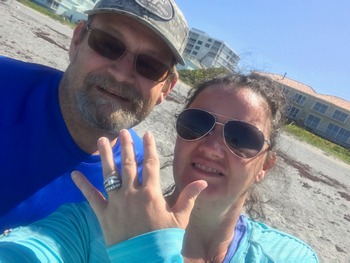 6/2021 While in Juno Beach for a baseball tournament we have been taking in the beautiful beach and trying to be diligent I took off my wedding rings to get in the water. I carefully put them in a zipperd bag, or at least thought I had. Once we returned to the hotel I realized they were not there. After searching multiple times and lots of tears I began to google renting metal decorations. I of course have no idea what to do with one, but came upon your site, Gold Cost Treasure Club. It says they help recover lost items. I called the number listed and spoke to Laurie Haire, who assured me this is what they do. She was so reassuring and found me a volunteer Kevin Bean, who came right out. Kevin found the rings on the second hole!!! I could not believe he did it so fast. He is my absolute HERO!! These rings belonged to my Grandmother and could never be replaced. I am not really a hugger, but as soon as he pulled them out of the basket I gave him the biggest hug!!! This service you guys provide is amazing and such a wonderful thing. I know God lead me to you and I will forever be grateful to the Gold Cost Treasure Club and the Fabulous Kevin Bean!
Forever in your Debt, Brandi
---